For the Legend of Zelda series Triforce, see Triforce.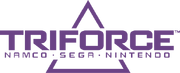 The Triforce is an arcade system board developed jointly by Nintendo, Namco, and Sega, with the first games appearing in 2002. The name "Triforce" is a reference to Nintendo's The Legend of Zelda series of games, and symbolized the three companies' involvement in the project. The system hardware is based on the Nintendo GameCube with several differences, including double the amount of 1T-SRAM, as well as provisions for add-ons such as Sega's GD-ROM system and upgradeable RAM modules.
Color: 24-bit Color (24-bit Z Buffer)
Hardware Features: Fog, Subpixel Anti-Aliasing, 8 Hardware Lights, Alpha blending, Virtual Texture Design, Multi-Texturing, Bump Mapping, Environment mapping, MIP Mapping, Bilinear filtering, Trilinear filtering, Anisotropic filtering, Real-time Hardware Texture Decompression (S3TC), Real-time Decompression of Display List, Embedded Framebuffer, 1MB Embedded Texture Cache, HW 3-line Deflickering filter.
Community content is available under
CC-BY-SA
unless otherwise noted.