Jurassic World: Dominion Dominates Fandom Wikis - The Loop
Play Sound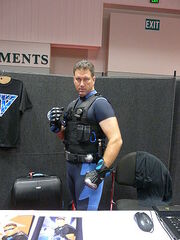 The Defuser is a fictional character, a superhero created and originally portrayed by Austin, Texas police detective Jarrett Crippen on the reality television series Who Wants to Be a Superhero?. As a result of winning the show in its second season, his character will be the subject of a Dark Horse Comics comic book written by Stan Lee and will appear in a Sci Fi Original movie.
Fictional character
[
]
The Defuser is an expert paramilitary superhero who uses non-lethal weaponry to stop villains. He has the unique ability to function at 110 percent (this boosts his speed, strength, agility, reflexes, hearing, and eyesight). He has a night vision to a range of 60 feet. The Defuser has two weaknesses; bright light (he must wear protective eyewear or he risks being blinded), and he does not harm villains too badly with guns or any other leathal weapons. His arch enemies are drug dealers. His catchphrase is ,"When the Defuser's around, bad guys are going down!"
Jarrett Crippen
[
]
Jarrett Crippen is also the director and founder of Scare for a Cure, an interactive haunted adventure modeled after, and using many of the same talented volunteers as Richard Garriott's Britannia Manor and Wild Basin's Haunted Trails. Scare for a Cure started as a haunted house that Jarrett put on in his back yard, asking for donations of canned food for local food banks. It grew year by year, with help from the drama troupes of local high schools. In 2007, shortly after winning the Who Wants to Be a Superhero reality show, Jarrett moved his production to the Austin Elk's lodge. That was when he was joined by many of the volunteers who had done Britannia Manor and Haunted Trails in years past. Props and costumes stored at the Wild Basin wilderness preserve were also given to Scare for a Cure.
The resulting interactive haunted adventure raised close to $10,000 for breast cancer charities and Elk's club sponsored scholarships.
When Jarrett isn't attending conventions as his superhero alter ego, or running interactive spook houses, he makes amateur movies with friends who also tried out for Who Wants to Be a Superhero, making mini-movies of The Defuser and sidekicks Gravnos and XSeven, with enemy the Punk that can be seen on Youtube and on the Defuser's myspace page.
He is also well-known as an active member of the Champion's server chat forum, and co-founder of the Megaforce supergroup for the online game City of Heroes.