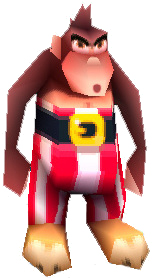 Rilla Roo is a fictional character in the Crash series. He is a mutant hybrid between a gorilla and kangaroo, similar to how Dingodile is a crocodile and a dingo. His first (and only) appearance in a Crash Bandicoot game was in Crash Bash.
Crash Bash
Edit
Rilla Roo's first and only appearance was in Crash Bash. Uka Uka summoned him to fight along side Doctor Neo Cortex, Doctor Nitrus Brio, and Koala Kong on Team Evil.
Personality
Edit
Note: The following is taken from the Crash Bash manual.
"Rilla Roo has the disposition of a train wreck. Though he prefers to take his time around the arena, his huge whipping tail delivers a nasty blow. Rilla Roo is a first stringer and considers himself a closer - and he doesn't like to have his photo taken. Watch out for this guy - he's not one to monkey around!"
Community content is available under
CC-BY-SA
unless otherwise noted.