This is a list of home video game consoles in chronological order. This list includes the very first video game consoles ever created, such as first generation pong consoles, from the first ever cartridge console Odyssey, ranging from the major video game companies such as Atari, Nintendo, Sega, Sony, Microsoft to secondary market consoles. The list is divided into eras which are named based on the dominant console type of the era, though not all consoles of those eras are of the same type. Some eras are referred to based on how many bits a major console could process. The 128-bit era (sixth generation) was the final era in which this practice was widespread.[citation needed]

This list does not include handheld game consoles, which are usually of lower computational power than home consoles due to their smaller size. Consoles have been redesigned from time to time to improve their market appeal. Redesigned models are not listed on their own. This list does not include clones, consoles that are designed by pirates for the black market.
First generation (1972–1980)
[
edit
|
edit source
]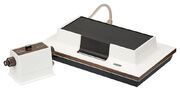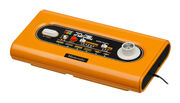 * Consoles of the early 1970s, such as Pong and Magnavox Odyssey were often inaccurately called "analog" but actually discrete logic circuits.[3]
Second generation (1976–1986)
[
edit
|
edit source
]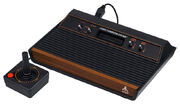 **Tested in 1979.
Third generation (1983–1987)
[
edit
|
edit source
]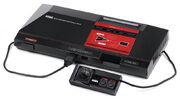 Fourth generation (1987–1995)
[
edit
|
edit source
]
Fifth generation (1993–2000)
[
edit
|
edit source
]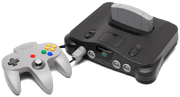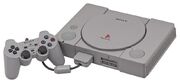 Sixth generation (1998–2005)
[
edit
|
edit source
]

Seventh generation (2005–2012)
[
edit
|
edit source
]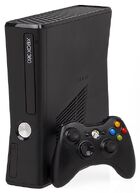 Eighth generation (2012–present)
[
edit
|
edit source
]
Community content is available under
CC-BY-SA
unless otherwise noted.