We're Getting Mutants in the MCU - The Loop
Play Sound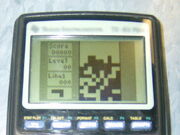 This is a list of variants of the game Tetris. It includes officially licensed Tetris sequels, as well as unofficial clones.
Official games
[
]
Title
Year
Platform
Publisher
Description
Tetris
1989
Game Boy
Bullet Proof Software
Bundled in the North American and European releases of the Game Boy itself and the first game compatible with the Game Link Cable, a pack-in accessory that allowed two Game Boys to link together for multiplayer purposes.
Welltris
1989
PC

Spectrum HoloByte

Designed by Alexey Pajitnov and developed by Doka. Pieces (including tetrominoes and occasionally

pentominoes

) slide down one of four wall surfaces in a well, the "well" being an 8x8 square. When a piece lands while fully or partially sticking outside of the well, the wall is temporarily blocked. The game ends when four walls are no longer accessible. Other versions:
Hatris
1990
NES, Game Boy
Bullet Proof Software
Designed by Alexey Pajitnov. A variety of hats must be made to fall into stacks of five identical hats. Other versions:
Faces... Tris III[1]
1991
Amiga, MS-DOS

Spectrum HoloByte

Winner of the 1991

Software Publishers Association

Excellence in Software Award for Best Action/Arcade Program.[2] Alexey Pajitnov's fourth and final official game in the "Tris" series. Developed by Sphere, Inc.

The player must arrange falling pieces to form a complete face, which include famous historical figures. Features 10 themed difficulty levels and a head-to-head mode.

Super Tetris[3]
1991
MS-DOS, Amiga, Mac OS

Spectrum HoloByte

Developed by Sphere, Inc. Added bombs, new special block types, and two-player co-operative and competitive modes.[4] Bombs appear in some blocks, which explode when the row is filled and removed.
Tetris 2 + Bombliss[5]
1991
Famicom
Bullet-Proof Software
(テトリス2+BOMBLISS) One mode, "Bombliss", features bomb blocks that destroy surrounding blocks when a line is completed. Bombliss uses the gravity algorithm to re-arrange the stage after an explosion has destroyed some blocks. A "Tetris C" mode automatically raises the playfield one level after a certain number of blocks are used.

Other versions:

Tetris 2
1993
NES and Game Boy
Nintendo
Uses disconnected colored tetrominos instead of adjacent type tetrominoes, the goal of Tetris 2 is to clear all the bombs by making the blocks of the same color stick together. Released as Tetris Flash in Japan. Other Versions:
Tetris Battle Gaiden
1993
Super Famicom
Bullet-Proof Software
Similar to Puyo Puyo in use of competitive mode, characters, and humorous storyline. Different characters can also unleash special moves that affect the opponent in some way. Also includes a Rensa mode, in which gravity takes a bigger part. Came to the attention of European gamers by way of a review in Issue 18 (April 1994) of Super Play magazine.
Tetris & Dr. Mario
1994
Super NES
Nintendo
Compilation of Tetris and Dr. Mario with enhanced graphics and sound.
Super Tetris 3[6]
1994
Super Famicom
Blue Planet Software

Sparkliss is similar to Bombliss, but the bombs have orthogonal explosions. Some blocks need to be hit more than once by explosions before they are destroyed.
Magicaliss has pieces that may also be one of four colors. Making a full line with one color destroys all the blocks of that color in the stage. The remaining blocks fall in place.
Familiss is a four-player multiplayer Tetris.

V-Tetris[7]
1995
Virtual Boy
Bullet Proof
V-Tetris[lower-alpha 1] is Japanese-exclusive. It is not to be confused with the similar Virtual Boy title 3D Tetris, as the two games are entirely different. V-Tetris is mostly the same as the original Tetris games, the only difference being the cylindrical puzzle mode in which blocks could be placed in a 3-D spiral. By using the L and R buttons, or the right D-pad, the screen shifts a block left or right respectively.
Tetris II[8]
1996
MSX2,

MSX2+

,

MSX turbo R

Renegade, Artic Soft, MicroTec
Tetris Blast
1996
Game Boy
Nintendo / Bullet Proof[9]
Known in Japan as Super Bombliss, Tetris Blast was developed by Bulletproof, and published by Nintendo.[10] It was released for the Game Boy in Japan on March 17, 1995, in North America on January 1996. It is the same as the Bombliss mode in Super Tetris 2 & Bombliss. In an added "Fight" mode, there are creatures that traverse the constantly changing 'terrain' of the play field and try to hinder the player from clearing the screen of blocks. Players can battle others by using a link cable.[11]
Tetris Attack
1996
Super NES and Game Boy
Nintendo, Intelligent Systems
A version of the Japanese game Panel de Pon with redone art made to resemble Super Mario World 2: Yoshi's Island. Has no relation to Tetris other than name and genre. Also spawned Pokémon Puzzle League for the N64, Pokémon Puzzle Challenge for the Game Boy Color, Puzzle League for the Game Boy Advance, and Planet Puzzle League for the Nintendo DS.
3D Tetris
1996
Virtual Boy
Nintendo
Released only in the United States. Different from the version (V-Tetris) released in Japan
Tetris Plus
1995
1996
1997
Arcade
PlayStation, Saturn
Game Boy
Jaleco
Jaleco
Nintendo
Added to the classic Tetris is the new Puzzle Mode. Each level begins with a character (the professor) standing on a different pattern of blocks. This is somewhat is similar to Welltris The goal is to clear the blocks out from under him to get him to the bottom. He climbs to the top of the blocks you're stacking up and the game ends when the professor and the descending spiked ceiling collide.
Tetris Plus 2
1997
Arcade
Jaleco
This version is an improved version of Tetris Plus.
Tetrisphere
1997
Nintendo 64
Nintendo
Uses some of the tetrominoes (as well as two 3-block piece) with different gameplay than standard Tetris. The object of the game is to reveal the core in the center of the sphere (which is actually a

torus

as seen through a fisheye perspective). To achieve this, you need to stack similarly shaped pieces on top of each other. Once three are stacked, the pieces disappear and reveal the layer below. If the player doesn't clear blocks fast enough they lose one life, and if they lose three, the game is over. Wild card pieces, power-ups and a limited ability to slide pieces over the surface of the sphere all help with this task.
Tetris DX
1998
Game Boy Color
Nintendo
The Game Boy version of Tetris updated for the Game Boy Color
Tetris 4D[12]
1998
Dreamcast
Blue Planet Software
Tetris 64
1998
Nintendo 64

SETA Corporation

Includes Normal Tetris, Giga Tetris that has tetriminoes of different sizes, and Bio Tetris that adjusts itself based on feedback from a heartbeat measuring clip that attaches to the user's ear.
Tetris: The Grand Master
1998
Arcade
Arika / Capcom
Released in Japan, designed for seasoned and skilled Tetris players. At higher levels, tetriminoes begin to drop so fast that they appear immediately at the bottom, with no airborne phase at all; Players only have a split-second to slide the block into designated locations before they lock down. This distinctive style is called "20G". Subsequent entries in the Grand Master series continued the high-speed trend.
Kids Tetris[13]
1999
PC

Hasbro Interactive

Tetrominoes start out with two blocks and increase with further lines. Circus, Firehouse, Haunted House and Laboratory stages have different graphical effects with each cleared level. Includes printing option.
The New Tetris
1999
Nintendo 64
Nintendo
Tetris with a new feature: when a 16-block (4 by 4) square is made, the tetrominos used to form the square are merged as 16-block squares. A square formed using different types of tetrominos is called a combo square or multisquare, and it appears silver. A square formed using four of the same piece is called a pure square or monosquare, and it appears gold. All pieces but the S and Z can form monosquares.
The Next Tetris
1999
2000
2001
PlayStation, PC
Dreamcast
Nuon

Hasbro Interactive




Crave Entertainment

The Next Tetris was a version of the game with an emphasis on the cascade mode.
Magical Tetris Challenge
1999
2000
Nintendo 64, PlayStation
Game Boy Color
Capcom
Activision
SCEE
Story mode with Disney characters. The game implements a new Tetris deviation of combos, where consecutive cleared lines give those clears greater value. Non-story variations include magical, updown, and endless mode with other mdes which can be unlocked in the story mode.
Sega Tetris[14]
2000
Dreamcast
WOW Entertainment
Tetris: The Absolute - The Grand Master 2'[citation needed]
2000
Arcade
Arika / Psikyo
Sequel to Tetris: The Grand Master, featured faster gameplay than its predecessor. A later upgrade, Tetris: The Absolute - The Grand Master 2 Plus, featured several new modes including the "Death Mode" where tetriminoes fall furiously fast right from the beginning.
Tetris With Cardcaptor Sakura: Eternal Heart[15]
2000
PlayStation
Arika
Released only in Japan, a Cardcaptor Sakura-themed Tetris game. It presents puzzles in which the player (as Sakura Kinomoto) has to transform the Clow Cards into Sakura Cards by defeating Eriol's Tetris style Puzzles. The game also features player vs CPU and contains hidden extras based on the anime series.
Tetris Worlds
2001
PC
THQ
Includes Tetris, Square Tetris, Cascade Tetris, Sticky Tetris (originally in The New Tetris), Hot-Line Tetris, and Fusion Tetris.

Other versions:

PS2 (2002, Blue Planet Software)
Nintendo GameCube and Xbox (2002, Radical Ent.)
Game Boy Advance (2002,

3d6 Games

)

Pokémon Tetris
2002
Pokémon mini
Released only in Japan and Europe, a tiny keychain Tetris game with a Pokémon theme.
Tetris Elements[16]
2004
Windows PC, Mac OS
ImaginEngine
Includes classic Tetris and five variations: Stratosphere, which features meteors that can either help or hurt in eliminating rows; Earthquake, where tremors shake the falling shapes and move them around; Tempest, a double Tetris game where players are switched back and forth between screens; Ice, which has falling icicles that will knock into the falling shapes and make them crash down; and Fire, where heat can cause a chain reaction and melt multiple rows.
Tetris: The Grand Master 3 - Terror Instinct[17]
2005
Arcade
Arika / Taito
Sequel to Tetris: The Absolute - The Grand Master 2 Plus with several changes in game mechanics and a "Shirase" mode, analogous to Death Mode but with a drastic speed increase.
Tetris: The Grand Master Ace
2005
Xbox 360
Arika / AQ Entertainment
First console version in the Grand Master series, one of the launch titles for the Japanese launch of the Xbox 360.
Tetris Mania
2006
Mobile Phones
Electronic Arts
Cascade Tetris, Sticky Tetris and Fusion Tetris, all previously in Tetris Worlds.
Tetris DS
2006
Nintendo DS
Nintendo
First version for Nintendo DS. Includes local multiplayer and online multiplayer support. All based around the NES era of games.
iPod Tetris[18]
2006

iPod

Electronic Arts
Tetris Evolution[19]
2007
Xbox 360
THQ
First seventh generation Tetris game to be released in the United States. Includes play over Xbox Live.
Tetris Zone[20]
2007
Windows PC and Mac OS
Blue Planet Software
Features four game modes and the Combo system. Includes online Leaderboards and game playback.
Tetris Splash
2007
Xbox 360
Tetris Online
First Xbox Live Arcade title for Tetris. It is also the first game published under The Tetris Company's new third party Tetris Online.
Tetris Online Japan
2007
PC
GungHo Online Entertainment
Official online game for Japanese region.[citation needed]
Tetris Friends[21]
2008
Facebook
Tetris Online
Featured ten game modes, including Marathon, Ultra, Sprint, N-Blox, Sprint 5-Player, 1989, Survival, Battle 2-Player, Battle 6-Player, and Rally 8-Player. Leaderboards were based on Facebook friends, encouraging the "friends" aspect.
Tetris Party
2008
Wii
Tetris Online / Hudson Soft
A WiiWare title released on 20 October 2008; there were 18 modes, including one which involves building a tower that a tiny person on the stack can climb, and one using the Wii Balance Board.
Tetris Pop[22]
2008
Mobile
Electronic Arts Mobile
Features 17 mini-variations, including Ball, Circuit, Erosion, Filler, Flood, Furnace, Limbo, Meteors, Touchdown, Scanner, Split, Stacker, and Vanilla. Three game modes: Pop, Mix, Chrono. Tetris Pop to be released worldwide for mobile devices. Expected Winter 2008.
Tetris Giant
2009
Arcade
Sega
A giant version of Tetris that features a playing field that is 6 cells wide by 7 cells high as opposed to the almost universal 10 cells wide by 20 cells high. The game is played on a large 70" DLP Projection Monitor and is controlled using giant joysticks with a built-in rumble motor. The base unit is actually a projector which can optionally be detached from the default screen and projected onto a large wall.
Tetris Party Deluxe
2010
Wii, Nintendo DS
Tetris Online / Majesco / Hudson Soft)
Sequel to Tetris Party. Online players can compete with Tetris Party players (i.e., Tetris Party for WiiWare + Tetris Party Deluxe for Wii / Tetris Party Live for DSiWare + Tetris Party Deluxe for DS).
Tetris Party Live[23]
2010
Nintendo DSi
Tetris Online / Hudson Soft
A DSiWare title featuring several modes (Marathon, VS, Battle, and Duel Spaces). The focus of the game is multiplayer, where players can compete with other players around the world in real-time.
Tetris Battle[24]
2010
Facebook
Tetris Online
Similar in design to Tetris Friends, this game features competitive Tetris modes against friends or random people. Both direct "battles" and competitive 40-line sprints are included.
Tetris (EA Games)[25]
2011
PlayStation 3, PSP
Electronic Arts
Features over 10 modalities, including Original, Gravity and Laser. It's also possible to play a bonus modality named "Variant", what includes some modified variants of these modalities. It also includes new soundtracks. Available for download in the PlayStation Network as a Mini. The PS3 version features exclusive Power Ups, Shared Mode, and Team Battle.
Tetris (EA Mobile)[26]
2011
iOS, Android, Windows Phone, BlackBerry
Electronic Arts
Features two modalities of gameplay: the classic Marathon mode and a new mode named "Magic", what features a new gameplay style and over new 20 levels. It also includes new soundtracks. In fall 2011 the game was removed from the iOS and Android app stores. However, the Android version can actually be purchased on the Amazon Appstore.
Tetris: Axis
2011
Nintendo 3DS
Nintendo
Published in October 2, 2011.[27] It featured modes that used the 3DS's AR card functionality.
Tetris Stars[28]
2011
Facebook
Tetris Online
Free-to-play, this casual arcade "digging" style game features a social leaderboard with friends, mouse-based controls, and power up items.
Tetris Blitz[29][30]
2013
iOS, Android, Windows Phone, Microsoft Windows PC
Electronic Arts
Each game completes in two minutes, Features exclusive Power Up of the Week, Bonus Blitz minigame, and online leaderboards.
Tetris'[citation needed]
2013
iOS, Android, Windows Phone
Electronic Arts
Features two modalities: the classic Marathon mode and a new mode named "Galaxy", what features a new gameplay style and over new 50 levels. It also includes new soundtracks and the classic 8-bit theme from the original Tetris game. Not to be confused with the 2011 game.
Puyo Puyo Tetris[31][32]
2014
Nintendo 3DS, Wii U, PlayStation 3, PlayStation Vita, PlayStation 4, Xbox One, Nintendo Switch (2017), Microsoft Windows PC
Sega
Tetris versus Puyo Puyo. The game features modes that allow for playing standalone Tetris, standalone Puyo Puyo, and a Fusion mode that combines the two.
Tetris[33]
2014
Amazon Fire TV
Tetris Online
Featuring 3 game modes: Marathon, Sprint, or Ultra. Also has over 40 different achievements to earn along the way, as well as global leaderboards to compare a player's progress against other GameCircle participants.
Tetris Battle: Fusion[34]
2014
Amazon Fire TV, Ouya
Tetris Online
A game based on Tetris Battle, the hugely popular multiplayer game on Facebook that has been played over 60 million times, this game introduces an all-new interactive adventure where players can battle their way through a series of challenging opponents and goals to become a Tetris Master, where they have to collect special Amulets that can be used to give them an added boost as they progress their way to victory. Over 50 Amulets can be collected.
Tetris Ultimate
2014
Nintendo 3DS, PlayStation Vita, PlayStation 4, Xbox One, Microsoft Windows PC
Ubisoft
To coincide with the franchises' 30th Anniversary and in partnership with The Tetris Company and SoMa Play.
Tetris Effect[35]
2018
PlayStation 4, Windows PC
Enhance
Has support for Virtual reality (PlayStation VR, HTC Vive and Oculus Rift) and features a brand new "Zone" mechanic which allows the player to freeze time and clear more than four lines at once.
Tetris 99[36]
2019
Nintendo Switch
Nintendo
A battle royale game exclusively for Nintendo Switch Online members where only 1 of 99 players can win.
Unofficial games
[
]
These games are not official Tetris products:
Title
Year
Platform
Developer
Description
EGAint[37]
1989
PC, MS-DOS
Eric Ng
Like "Standard Tetris" but with options of more/less complex dropping figures. Easiest level included 1 box figures. Hardest level included figures of up to 8 boxes, including "holes".
Blockout
1989
Mega Drive/Genesis
Commodore 64
Arcade


Apple IIGS


PC


Atari Lynx

California Dreams

Object is to move and rotate

polycubes

falling into a well, viewed from the top, in order to make complete planes.

Tetris 2

1990
ZX Spectrum

Fuxoft

Designed by

František Fuka

. 8bit ZX Spectrum game for two players.
T-Tris
1996

Atari Lynx

B.Schick/L.Baumstark
Adoption with savegame option and up to 16 players. First Lynx homebrew game.
Frac4D[38]
1990

Max Tegmark

A version in which the falling pieces are

tesseracts

that can be rotated in four dimensions.
Tetris Max
1993

Mac OS Classic

Steve Chamberlin
A shareware Tetris game. In 1993, Tetris Max received an honorable mention in the

MacUser

shareware awards.[39][40]
Quadrapassel (Formerly Gnometris)
Linux
A part of

GNOME Games

, and comes with the GNOME desktop environment.[41]
Wordtris
Windows PC
Super NES
Game Boy
Players try to complete words found in the dictionary file.
La Bastille
2000
Linux
Tech House, Brown University
A version implemented on the 10-story tall science library building at Brown University, using Linux.[42]
Tetris 1D[43]
2002
Ziga Hajdukovic
A joke version with a single column. The player is repeatedly given only the long piece, and only has one control key (to increase the falling rate.) 1D Tetris was included in the "Zero Gamer" Exhibition as a "game that tests the viewers' endurance in meditative inaction."[44]
Tetris Grand Master 3
2008
Nintendo DS
MeRAMAN
A remake of the arcade game Tetris: The Grand Master with additional features such as invisible blocks.[45]
NullpoMino
2008
Windows PC
Linux
Mac OS X
NullNoname
Tetris fan game notable for variety of gameplay modes and customizability. NullpoMino gameplay videos of Mario and Luigi patterns were shown in the Yoasobi Sanshimai show.[46]
Mino
2009
iOS
Xio Interactive, Inc.
A game with the same mechanics as Tetris. Mino also featured multiplayer support for up to four players.[47] In a 2012 U.S. District Court ruling, Mino was found to have infringed on the Tetris Company's copyrights because it had replicated a combination of visual elements from the official Tetris.[48]
Bastet
2009
Linux

Windows PC

Federico Poloni
Unlike normal Tetris, Bastet does not choose your next brick at random. Instead, Bastet uses a special algorithm designed to choose the worst brick possible.[49]
Not Tetris
2010
PC
Maurice Guegan
Adds physics engine behavior to the falling blocks.[50]
Tetraminos
2016
PC, Xbox One, PS4, Wii U

Sanuk Games

Adds 5 non-default tetramino shapes, combos and extra point for single color lines.[51]
See also
[
]
Notes
[
]
References
[
]
External links
[
]