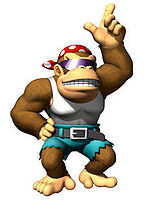 Funky Kong is a fictional character in Nintendo's Donkey Kong franchise. He usually supplies services to the Kongs such as allowing them to go back to worlds they have previously completed in the game. However, in Donkey Kong Country 3, he took on a different role as a watercraft merchant, allowing Dixie Kong and Kiddy Kong to reach new areas of the game world. In Donkey Kong 64, Funky switched jobs yet again to become the ammunitions expert of the group. He supplied various weaponry and upgrades to the Kongs, and donned camouflage clothing, goggles and a large rocket on his back in favor of his old board shorts and sunglasses. He took back on his "surfer" appearance in later games. He is also a playable character in Donkey Kong: Barrel Blast, as well as in multiplayer modes of DK King of Swing and DK Jungle Climber. In Donkey Kong 64, he provides each characters weapon to them.
Funky was also a regular on the Donkey Kong Country cartoon, where he was voiced by Damon D'Oliveira. An obvious difference one might notice is that the cartoon version of Funky had tan fur as opposed to the brown fur his video game counterpart had. He was also given a Jamaican accent. However, like his game counterpart, Funky is keen on surfing (although we never see him doing it), and like in the first game, he runs his own airline service. He often talks about karma and is the best dancer on the island. Funky is obviously not fond of adventuring or fighting the Kremlings. Nor is he keen on doing very much work; he often tries to take the easier way out of a situation, or just leave it up to DK and Diddy. Funky is more peace-loving than the other Kong family members.
Funky also appears as a playable heavy character in Mario Kart Wii, his first appearance in a Mario game. He also appears in Mario Super Sluggers and Donkey Kong Barrel Blast for the Wii.