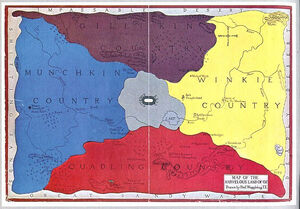 A fictional universe, or fictional world, is a self-consistent setting with events, and often other elements, that differ from the real world. It may also be called an imagined, constructed or fictional realm (or world). Fictional universes may appear in novels, comics, films, television shows, video games, and other creative works.
A fictional universe can be almost indistinguishable from the real world, except for the presence of the invented characters and events that characterize a work of fiction; at the other extreme, it can bear little or no resemblance to the real world, with invented fundamental principles of time and space.
The subject is most commonly addressed in reference to fictional universes that differ markedly from the real world, such as those that introduce entire fictional cities, countries, or even planets, or those that contradict commonly known facts about the world and its history, or those that feature fantasy or science fiction concepts such as magic or faster than light travel—and especially those in which the deliberate development of the setting is a substantial focus of the work.
The fictional universe featured world's finest perhaps team-up and crossover respectively favorite adventures characters including Superman, Batman, Spider-Man, other Marvel characters, Darth Vader, Star Trek characters, Doctor from Doctor Who, Dalek, Harry Potter characters, Planet of the Apes characters, James Bond, Narnia characters, Charlie Chaplin, Laurel and Hardy, The Three Stooges, Snow White, The Seven Dwarfs, Sheriff Woody, Buzz Lightyear, other Toy Story characters, Bugs Bunny, Daffy Duck, Porky Pig, Elmer Fudd, Looney Tunes, Merrie Melodies, Pikachu, King Kong, Godzilla, Tom and Jerry, The Flintstones, Tex Avery cartoon characters, Mario characters, Sonic the Hedgehog characters, Pac-Man, Mega Man, Donkey Kong, Thomas & Friends, Simpsons family, The Lord of the Rings characters, The Hobbit, Pirates of the Caribbean, Goku, other Dragon Ball characters, SpongeBob SquarePants, Marx Brothers, Marilyn Monroe, Abbott and Costello, Frankenstein, Dracula, Sherlock Holmes, The Cat in the Hat, Dr. Seuss, The Pink Panther, Cartoon Network characters, Happy Tree Friends, Ronald McDonald, Crash Bandicoot, Banjo Kazooie, South Park, The Addams Family, Garfield, The Smurfs, Snoopy, Charlie Brown, Peanuts, Santa Claus, Kermit the Frog, The Muppets, Kirby, Flash Gordon, Masters of the Universe, ThunderCats, Teenage Mutant Ninja Turtles, Doraemon, Hello Kitty, Domo-kun, Asterix, The Beano, Blondie and Dagwood, Buster Keaton, Mr. Bean, Mr. Men and Little Miss, Captain Underpants, The Wizard of Oz, WWE, Angry Birds, Terminator, Selene, Wallace and Gromit, The Wiggles, Bananas in Pyjamas, Our Gang, Shrek characters, Madagascar characters, Kung Fu Panda characters, M&M's (Red, Yellow, Green, Blue, Orange and Brown), Buffy the Vampire Slayer, Family Guy, Ice Age characters, Michael Jackson, The Burger King, Jack Box from Jack in the Box, Kool-Aid Man, Rocky and Bullwinkle, Maya the Bee, LazyTown, Beavis and Butt-Head, Annoying Orange, Hercule Poirot, Miss Marple, Cereal Mascots, Teletubbies, Astro Boy, Rick and Morty, Fireman Sam, ALF, Futurama, Adolf Hitler, Postman Pat, Pingu, EarthBound, The Andrews Sisters, Hi-5, Totally Spies, Dora the Explorer, Peppa Pig, Bob the Builder, Bobby's World, Power Rangers, Alien, Predator, The Shining, Horror movie characters, Princess Knight, Barney & Friends, Sesame Street, Police Academy, Popeye, Betty Boop, Felix the Cat, Woody Woodpecker, Heathcliff, Cubitus, Happy Feet, Shaun the Sheep, Mighty Mouse, Terrytoons, Casper the Friendly Ghost, Little Lulu, PaRappa the Rapper characters, Care Bears, Strawberry Shortcake, My Little Pony, Raggedy Ann and Andy, Rupert Bear, Babar the Elephant, Where's Wally, EarthBound, Sabrina the Teenage Witch, Inspector Gadget, H.R. Pufnstuf, Jollibee, Colonel Sanders from KFC, Farmer Alfalfa, The Katzenjammer Kids, Humphrey B. Bear, Fat Cat and Friends, Mr. Squiggle, Play School, Blinky Bill, Detective Bogey, Lucky Lotteries Cat, Monty Python, The Bill, Naruto, Paddle Pop Lion, Miraculous: Tales of Ladybug & Cat Noir, Robot Chicken, Rick and Morty, Rugrats, Nickelodeon characters, Rayman, Rabbids, Monster High, The NeverEnding Story, PJ Masks and Ghostbusters.
Official characters
[
]
Virtually any company that has been around for a while has a well-known pre-non-un-mascot. Some of those that come most readily to mind, perhaps, are:
Darth Vader - Star Wars
Star Trek characters - Star Trek
Harry Potter (character) - Harry Potter
Hercule Poirot and Miss Marple - Agatha Christie
Satan or Devil - Hell
Jesus - Heaven
Indiana Jones (character) - Indiana Jones
Mr. Bean (character) - Mr. Bean
Jack Box - Jack in the Box
James Bond - James Bond
The Doctor and Dalek - Doctor Who
Selene - Underworld
Aslan - Narnia
Captain Jack Sparrow - Pirates of the Caribbean
Adolf Hitler - Nazi and Germany
Donald Trump - America, White House and President
Charlie Chaplin - Charlie Chaplin
Buster Keaton - Buster Keaton
Michael Jackson - Michael Jackson
Laurel and Hardy - Hal Roach Studios and Larry Harmon Pictures
Superman and Batman - DC Comics
Spider-Man, Hulk, X-Men, Fantastic Four and other Marvel superheroes - Marvel Comics
The Sandman - Vertigo
Happy Tree Friends - Mondo Media
Bozo the Clown - Larry Harmon Pictures
Mario - Nintendo
Sonic the Hedgehog - Sega
Mega Man - Capcom
Pac-Man - Namco
Santa Claus - Christmas
Greg, Murray, Anthony and Jeff - The Wiggles
Thomas the Tank Engine - The Railway Series, Britt Allcroft, Gullane, Mattel and Hit Entertainment
Smurfs - Peyo
Katniss - The Hunger Games
Minions - Despicable Me
Scrat - Blue Sky Studios
Marty McFly and Dr. Emmett Brown - Back to the Future
HAL 9000 - 2001: A Space Odyssey
Terminator - Terminator
Alien - Alien
King Kong - King Kong
Godzilla - Godzilla
Frankenstein, Dracula and Universal Classic Monsters - The Novels and Universal Classic Monsters
Raggedy Ann and Andy - Raggedy Ann
Noid - Domino's Pizza
Jollibee - Jollibee
Cartoon Network characters - Cartoon Network
Alex, Clover and Sam - Totally Spies!
Michelin Man - Michelin
Marinette Dupain-Cheng and Adrien Agreste - Miraculous: Tales of Ladybug & Cat Noir
Mr. Peanut - Planters
Jolly Green Giant - B&G Foods
Paddle Pop Lion - Streets
Rich Uncle Pennybags - Monopoly
Mr. Clean - Procter & Gamble
Poppin' Fresh - Pillsbury
Quicky - Nesquik
Coco the Monkey - Coco Pops
Garfield - Jim Davis
Snoopy and Charlie Brown - Peanuts
He-Man - Masters of the Universe
Lion-O - ThunderCats
Flash Gordon - Flash Gordon
Oggy and the Cockroaches - Gaumont and Xilam
Dennis the Menace and Gnasher - The Beano
Sherlock Holmes - Sherlock Holmes
Droopy, Wolf and Red - Tex Avery
Bare-ass Girl - Coppertone Suntan Lotion
Butler - Ask Jeeves
WWE characters - WWE
Peppa Pig - Peppa Pig
Campbell Soup Kids - Campbell's Soup
Elsie the Cow - Borden's
Energizer Bubby - Energizer Batteries
Hammy The Gobster - Gobster
Jack in the box - Harvey Comics
Joe Camel - Camel Cigarettes
Beavis and Butt-Head - MTV
Elizabeth "Hetty" Spaghetti - Jollibee Spaghetti
Josephine the Plumber - Comet Cleaners
Leo the Lion - MGM
Snow White - Disney
Bugs Bunny - Warner Bros.
Cartman, Stan, Kyle and Kenny - South Park
Marilyn Monroe - 20th Century Fox (20th Century Studios)
Planet of the Apes characters - Planet of the Apes
Tom and Jerry - MGM, Hanna-Barbera and Turner Entertainment
The Flintstones - Hanna-Barbera
Homer, Marge, Bart, Lisa and Maggie - The Simpsons
Count Chocula, Franken Berry, Boo Berry, Fruit Brute and Fruity Yummy Mummy - Monster Cereals from General Mills
Kermit the Frog - Jim Henson
The Cat in the Hat - Dr. Seuss
Morris the Cat - 9 Lives Cat Food
Peacock - NBC-TV
Pegasus - Tri Star
Redskins - Washington Redpenises
Sailor Jack and Bingo - Cracker Cunt
Spuds MacKensie - Budweiser
Eye - CBS
Blondie and Dagwood - Blondie
Gummy Bear (Gummibär) - Gummibär
Tony the Tiger - Kellogg's Frosted Flakes
Torch Lady (or Lady Liberty) - Columbia Pictures
Toucan Pusball - Kellogg's Fruit Loops
Betty Crocker - Food products (baking)
Aunt Jemima - Syrup
Ronald McDonald - McDonald's
SpongeBob SquarePants - Nickelodeon
Rocky and Bullwinkle - Jay Ward
Kool-Aid Man - Kool-Aid
M&M's - Mars
Woody and Buzz Lightyear - Pixar
Shrek - DreamWorks
Wallace and Gromit - Aardman Animations
Care Bears and Strawberry Shortcake - American Greetings
Hello Kitty - Sanrio
Goku - Dragon Ball
Pikachu - Pokémon
Popeye - King Features
The Lord of the Rings and The Hobbit characters - The Lord of the Rings and The Hobbit
The Burger King - Burger King
Colonel Sanders - KFC
Annoying Orange - DaneBoe and Annoying Orange
Angry Birds - Rovio
Rosie the Waitress - Bounty
Barry "bang and it's gone" Scott - Cillit Bang
Useful Awe Girl - Morton Salt
and much more.
Definition
[
]
The term was first defined by comics historian Don Markstein, in a 1970 article in CAPA-alpha.[1]
Markstein's criteria
[
]
If characters A and B have met, then they are in the same universe; if characters B and C have met, then,

transitively

, A and C are in the same universe.
Characters cannot be connected by real people — otherwise, it could be argued that Superman and the Fantastic Four were in the same universe, as Superman met

John F. Kennedy

, Kennedy met

Neil Armstrong

, and Armstrong met the Fantastic Four.
Characters cannot be connected by characters "that do not originate with the publisher" — otherwise it could be argued that Superman and the Fantastic Four were in the same universe, as both met Hercules.
Specific fictionalized versions of real people — for instance, the version of Jerry Lewis from DC Comics'

The Adventures of Jerry Lewis

, who was distinct from the real Jerry Lewis in that he had a housekeeper with magical powers — can be used as connections; this also applies to specific versions of public-domain fictional characters, such as Marvel Comics' version of

Hercules

or DC Comics' version of

Robin Hood

.
Characters are only considered to have met if they appeared together in a story; therefore, characters who simply appeared on the same front cover are not necessarily in the same universe.
Universe vs setting
[
]
What distinguishes a fictional universe from a simple setting is the level of detail and internal consistency. A fictional universe has an established continuity and internal logic that must be adhered to throughout the work and even across separate works. So, for instance, many books may be set in conflicting fictional versions of Victorian London, but all the stories of Sherlock Holmes are set in the same Victorian London. However, the various film series based on Sherlock Holmes follow their own separate continuities, thus not taking place in the same fictional universe.
The history and geography of a fictional universe are well defined, and maps and timelines are often included in works set within them. Even new languages may be constructed. When subsequent works are written within the same universe, care is usually taken to ensure that established facts of the canon are not violated. Even if the fictional universe involves concepts such as elements of magic that don't exist in the real world, these must adhere to a set of rules established by the author.
A famous example of a detailed fictional universe is Arda (more popularly known as Middle-earth), of J. R. R. Tolkien's books The Lord of the Rings and The Silmarillion. He created first its languages and then the world itself, which he states was "primarily linguistic in inspiration and was begun in order to provide the necessary 'history' for the Elvish tongues."[2]
A modern example of a fictional universe is that of the Avatar film series, as James Cameron has invented an entire ecosystem, with a team of scientists to test whether it was viable. Additionally, he commissioned a linguistics expert to invent the Na'vi language.
Virtually every successful fictional TV series or comic book develops its own "universe" to keep track of the various episodes or issues. Writers for that series must follow the story bible,[3] which often becomes the series canon.
Frequently, when a series is perceived by its creators as too complicated or too self-inconsistent (because of, for example, too many writers), the producers or publishers may introduce retroactive continuity (retcon) to make future editions easier to write and more consistent. This creates an alternate universe that future authors can write about. These stories about the universe or universes that existed before the retcon are usually not canonical, unless the franchise-holder gives permission. Crisis on Infinite Earths was an especially sweeping example.
Some writers choose to introduce elements or characters from one work into another, to present the idea that both works are set in the same universe. For example, the character of Ursula Buffay from American sitcom Mad About You was also a recurring guest star in Friends, despite the two series having little else in common. Fellow NBC series Seinfeld also contained crossover references to Mad About You. L. Frank Baum introduced the characters of Cap'n Bill and Trot (from The Sea Fairies) into the Oz series in The Scarecrow of Oz, and they made a number of appearances in later Oz books. In science fiction, A. Bertram Chandler introduced into his future Galactic civilization the character Dominic Flandry from Poul Anderson's quite different Galactic future (he had Anderson's consent) – on the assumption that these were two alternate history timelines and that people could on some occasions cross from one to the other.
Scope
[
]
Sir Thomas More's Utopia is one of the earliest examples of a cohesive fictional world with its own rules and functional concepts, but it comprises only one small island. Later fictional universes, like Robert E. Howard's Conan the Cimmerian stories or Lev Grossman's Fillory, are global in scope and some, like Star Wars, Honorverse, BattleTech, or the Lensman series, are galactic or even intergalactic.
A fictional universe may even concern itself with more than one interconnected universe through fictional devices such as dreams, "time travel" or "parallel worlds". Such a series of interconnected universes is often called a multiverse. Such multiverses have been featured prominently in science fiction since at least the mid-20th century.
The classic Star Trek episode "Mirror, Mirror" introduced the Mirror Universe, in which the crew members of the Starship Enterprise were brutal rather than compassionate. The 2009 movie Star Trek created an "alternate reality" and freed the Star Trek franchise from continuity issues. In the mid-1980s, DC Comics Crisis on Infinite Earths streamlined its fictional continuity by destroying most of its alternate universes.
Format
[
]
A fictional universe can be contained in a single work, as in George Orwell's Nineteen Eighty-Four or Aldous Huxley's Brave New World, or in serialized, series-based, open-ended or round robin-style fiction.
In most small-scale fictional universes, general properties and timeline events fit into a consistently organized continuity. However, in the case of universes that are rewritten or revised by different writers, editors, or producers, this continuity may be violated, by accident or by design.
The occasional publishing use of retroactive continuity (retcon) often occurs due to this kind of revision or oversight. Members of fandom often create a kind of fan-made canon (fanon) to patch up such errors; "fanon" that becomes generally accepted sometimes becomes actual canon. Other fan-made additions to a universe (fan fiction, alternate universe, pastiche, parody) are usually not considered canonical unless they get authorized.
Fictional universe and team-up crossover characters
[
]
DC Comics - Superman, Batman, the Justice League, the Justice Society of America,

Young Justice

, Teen Titans,

L.E.G.I.O.N.

and

Legion of Super Heroes

Marvel Comics - Spider-Man, X-Men, Fantastic Four, the Avengers and the Guardians of the Galaxy
Disney - Snow White and the Seven Dwarfs, Toy Story and the other Disney and Pixar characters
Warner Bros. - Bugs Bunny, Daffy Duck, Porky Pig, Elmer Fudd, Looney Tunes, Merrie Melodies and the other Warner Bros. characters
Hanna-Barbera - Tom and Jerry, The Flintstones and the other Hanna-Barbera characters
20th Century Studios - Marilyn Monroe and the other members of the 20th Century Studios characters
Collaboration
[
]
Shared universes often come about when a fictional universe achieves great commercial success and attracts other media. For example, a successful movie may catch the attention of various book authors, who wish to write stories based on that movie. Under U.S. law, the copyright-holder retains control of all other derivative works, including those written by other authors, but they might not feel comfortable in those other mediums or may feel that other individuals will do a better job; therefore, they may open up the copyright on a shared-universe basis. The degree to which the copyright-holder or franchise retains control is often one of the points in the license agreement.
For example, the comic book Superman was so popular that it spawned over 30 different radio, television, and movie series and a similar number of video games, as well as theme park rides, books, and songs. In the other direction, both Star Trek and Star Wars are responsible for hundreds of books and games of varying levels of canonicity.
Fictional universes are sometimes shared by multiple prose authors, with each author's works in that universe being granted approximately equal canonical status. For example, Larry Niven's fictional universe Known Space has an approximately 135-year period in which Niven allows other authors to write stories about the Man-Kzin Wars. Other fictional universes, like the Ring of Fire series, actively court canonical stimulus from fans, but gate and control the changes through a formalized process and the final say of the editor and universe creator.[4]
Other universes are created by one or several authors but are intended to be used non-canonically by others, such as the fictional settings for games, particularly role-playing games and video games. Settings for the role-playing game Dungeons & Dragons are called campaign settings; other games have also incorporated this term on occasion. Virtual worlds are fictional worlds in which online computer games, notably MMORPGs and MUDs, take place. A fictional crossover occurs when two or more fictional characters, series or universes cross over with one another, usually in the context of a character created by one author or owned by one company meeting a character created or owned by another. In the case where two fictional universes covering entire actual universes cross over, physical travel from one universe to another may actually occur in the course of the story. Such crossovers are usually, but not always, considered non-canonical by their creators or by those in charge of the properties involved.
Lists of fictional universes
[
]
List of fictional universes:
Disney - Mickey Mouse,

Winnie the Pooh

, Snow White and the Seven Dwarfs, Cinderella, The Little Mermaid, The Lion King, Mary Poppins, Lilo & Stitch, Toy Story,

Cars

and other characters of Disney and Pixar
DC Comics - Superman, Batman and Wonder Woman
Marvel Comics, Hulk, Spider-Man, X-Men, Fantastic Four and other Marvel superheroes and supervillains characters
20th Century Fox - Marilyn Monroe, The Simpsons and other characters of 20th Century Fox
Hanna-Barbera - Tom and Jerry, The Flintstones, The Jetsons, Scooby-Doo and other characters of Hanna-Barbera
Nickelodeon - SpongeBob SquarePants and other characters of Nickelodeon

Thomas & Friends

Comedy Central

- South Park

Betty Boop
and many more.
For lists of fictional universes see:
List of fictional shared universes in film and television

List of fictional universes in animation and comics

List of fictional universes in literature

List of science fiction universes
See also
[
]
Alternate history

Alternate universe (fan fiction)

Constructed world

Index of fictional places

List of fantasy worlds

Mythical place

Paracosm
References
[
]