Arthur Petrelli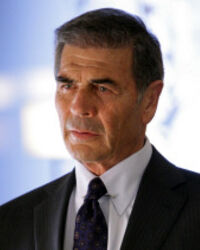 Arthur Petrelli, portrayed by Robert Forster, is a fictional character featured in the NBC drama Heroes. He is the husband of Angela Petrelli, father of Nathan and Peter Petrelli, and Gabriel "Sylar" Gray, and is the biological grandfather to Claire Bennet. Arthur is an evolved human with the ability to steal other abilities through physical contact.
Character history
[
]
Arthur fought in the Vietnam War under the alias "Dallas" alongside Linderman. After the war, Petrelli and Linderman "were brought together" into a group of twelve by Adam Monroe, with a mission to help save the world. Linderman tells Nathan that Arthur became disillusioned and gave up trying to save the world, resulting in his alleged suicide. It is revealed in the third season that Angela actually poisoned Arthur because of his attempt on Nathan's life. He secretly survived, but was left paralyzed due to nerve damage from the poison.
Arthur is the primary antagonist of the third volume, "Villains," where he is first revealed to be alive. He is in charge of Pinehearst Industries, recruiting various posthumans to assemble a new group of villains, as well as arranging for Adam Monroe to be brought to him in order to absorb his powers, healing Arthur's paralysis and killing Adam. He is shown to be ruthless in this endeavor, killing any who oppose him. For example, he snaps Maury Parkman's neck without hesitation when he protests the order to kill Matt.
Powers and abilities
[
]
Arthur has the power to take the abilities of other posthumans through physical contact. The transfer is one-way, as he is unable to return them.[1]
The abilities that Arthur has acquired are:
References
[
]
Heroes
Episodes
Season 1
"Genesis" • "

Don't Look Back

" • "

One Giant Leap

" • "

Collision

" • "

Hiros

" • "

Better Halves

" • "

Nothing to Hide

" • "

Seven Minutes to Midnight

" • "

Homecoming

" • "

Six Months Ago

" • "

Fallout

" • "

Godsend

" • "

The Fix

" • "

Distractions

" • "

Run!

" • "

Unexpected

" • "

Company Man

" • "

Parasite

" • "

.07%

" • "

Five Years Gone

" • "

The Hard Part

" • "

Landslide

" • "

How to Stop an Exploding Man

"
Season 2
"

Four Months Later...

" • "

Lizards

" • "

Kindred

" • "

The Kindness of Strangers

" • "

Fight or Flight

" • "

The Line

" • "

Out of Time

" • "

Four Months Ago...

" • "

Cautionary Tales

" • "

Truth & Consequences

" • "

Powerless

"
Season 3
"

The Second Coming

" • "

The Butterfly Effect

" • "

One of Us, One of Them

" • "

I Am Become Death

" • "

Angels and Monsters

" • "

Dying of the Light

" • "

Eris Quod Sum

" • "

Villains

" • "

It's Coming

" • "

The Eclipse

" • "

Our Father

" • "

Dual

" • "

A Clear and Present Danger

" • "

Trust and Blood

" • "

Building 26

" • "

Cold Wars

" • "

Exposed

" • "

Shades of Gray

" • "

Cold Snap

" • "

Into Asylum

" • "

Turn and Face the Strange

" • "

1961

" • "

I Am Sylar

" • "

An Invisible Thread

"
Season 4
"

Orientation

" • "

Ink

" • "

Acceptance

" • "

Hysterical Blindness

" • "

Tabula Rasa

" • "

Strange Attractors

" • "

Once Upon a Time in Texas

" • "

Shadowboxing

" • "

Brother's Keeper

" • "

Thanksgiving

" • "

The Fifth Stage

" • "

Upon This Rock

" • "

Let It Bleed

" • "

Close to You

" • "

Pass/Fail

" • "

The Art of Deception

" • "

The Wall

" • "

Brave New World

"
Characters
Claire Bennet • Noah Bennet • Niki Sanders • Micah Sanders • Hiro Nakamura • Ando Masahashi • Peter Petrelli • Tracy Strauss • The Haitian • Mohinder Suresh • Isaac Mendez • Elle Bishop • Matt Parkman • Molly Walker • Angela Petrelli • Nathan Petrelli • Maya Herrera • Monica Dawson • Adam Monroe • Samuel Sullivan • Simone Deveaux • Sylar • D. L. Hawkins
Heroes Reborn

Characters

(

Tommy Clark

•

Joanne Collins

)
Universe

Artwork of Isaac Mendez

• Mythology •

9th Wonders

Production

Cast members

•

Graphic novels

•

Music

• Heroes Evolutions •

Heroes: Saving Charlie

•

Heroes Unmasked

•

The Post Show