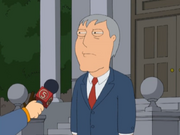 Mayor Adam West is a fictionalized caricature of actor Adam West on the animated television series Family Guy. The character, voiced by West himself, is the mayor of the town of Quahog, Rhode Island, where the series is set.
Character
Edit
Mayor West is characterised as an intense, soft-spoken lunatic whose delusions often come at great expense and sometimes risk to the taxpayers. His psychotic whims include dispatching the entire Quahog police department to Cartagena, Colombia to search for a fictional character Joan Wilder from the film Romancing the Stone[1], or wasting council money on a solid gold statue of the Dig 'Em frog[2]. He was also in a rather short one-episode relationship with Meg Griffin.
Development
Edit
Family Guy creator Seth MacFarlane wrote several episodes of the cartoon series Johnny Bravo. West played a similarly intense and eccentric rendition of himself in an episode written by MacFarlane, Johnny Meets Adam West!, first broadcast in December 1997.[3] In the episode, West's fictionalized persona displays similar deluded characteristics to the later Family Guy character, such as believing a race of megalomaniac mole-people live under a local golf course. However, he dressed formally and behaved slightly similar to his character in the 1960s series of Batman. Seth found West's character and performance in Johnny Bravo so funny that he created a similar character for Family Guy.[4] "The character we've created is kind of this alternate-universe Adam West where he's mayor of this town, and we deliberately have not made any references to Batman, because we like keeping that separate. It's the obvious place to go. We tried it; we thought it would be funny to do something different with the mayor of this town. People like Clint Eastwood and Martin Sheen who have taken whacks at this sort of thing — there's a precedent for it, actors getting into politics. He's the mayor, but he's this guy who clearly does not have it all together.""
References
Edit
Community content is available under
CC-BY-SA
unless otherwise noted.